HVAC/R Repairs/Service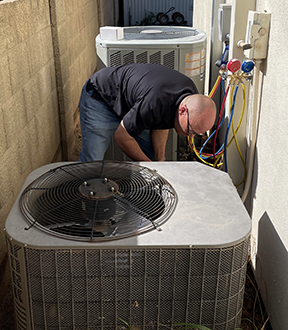 Count On Us
We are here to help you will all your HVAC/R repair needs. We can advise you when replacement is required or when a simple repair can be used. Whatever your needs might be, contact Whitton, we have your best interests in mind.
When should I call?
There are several items you can check yourself when your comfort system fails. Check these items to make sure you have a problem that needs our professional attention before calling our dispatch center.
AIR CONDITIONING UNITS
Is the outside unit running?
Is the thermostat turned to "Cool" and set below room temperature?
Is the filter clean? (If the filter is dirty or obstructed, air flow is restricted and unit will freeze up.)
Is there ice on the refrigerant lines (freezing up)? NOTE: If your unit is frozen up, shut if off prior to calling so it will be thawed out when our Service Technician arrives.
FURNACES
Is the thermostat properly set to "Heat" and set above the room temperature?
Are the furnace doors on tightly?
Is the filter clean?
When you have checked all of these items and your system is still not working properly, give our experienced service department a call, or use our website contact us link and we will dispatch a skilled professional to get your system up and running right away!!
CrimShield Certified
Did you know that all Whitton Cooling and Heating service techs are CrimShield certified? This means that anyone coming to your home has gone through an extensive background check before they can work for us. Ask your service tech to show you their badge, you can verify it by just scanning the QR code to make sure they are legit.

Valley Wide: (480) 291-1115
Tucson: (520) 505-3237